Speeding To Zeus On Route Pluto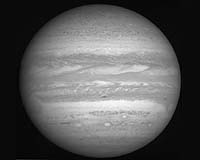 This image of Jupiter is produced from a 2x2 mosaic of photos taken by the New Horizons Long Range Reconnaissance Imager (LORRI), and assembled by the LORRI team at the Johns Hopkins University Applied Physics Laboratory. The telescopic camera snapped the images during a 3-minute, 35-second span on February 10, when the spacecraft was 29 million kilometers (18 million miles) from Jupiter. At this distance, Jupiter's diameter was 1,015 LORRI pixels - nearly filling the imager's entire (1,024-by-1,024 pixel) field of view. Features as small as 290 kilometers (180 miles) are visible.

Both the Great Red Spot and Little Red Spot are visible in the image, on the left and lower right, respectively. The apparent "storm" on the planet's right limb is a section of the south tropical zone that has been detached from the region to its west (or left) by a "disturbance" that scientists and amateur astronomers are watching closely. At the time LORRI took these images, New Horizons was 820 million kilometers (510 million miles) from home - nearly 5½ times the distance between the Sun and Earth. This is the last full-disk image of Jupiter LORRI will produce, since Jupiter is appearing larger as New Horizons draws closer, and the imager will start to focus on specific areas of the planet for higher-resolution studies. Credit: NASA/Johns Hopkins University Applied Physics Laboratory/Southwest Research Institute
by Alan Stern

Laurel MD (SPX) Feb 22, 2007

We're a week from Jupiter closest approach. And if you're monitoring the "Where Is New Horizons?" page, you've likely noticed that we're already accelerating because of Jupiter's gravity. Although the effect is relatively small now, it will build dramatically in the coming days, giving us a boost of approximately 9,000 miles per hour (nearly 14,500 kilometers per hours) by the middle of next week. That's half the speed of a space shuttle in Earth orbit - essentially for free!

Meanwhile, the New Horizons spacecraft and payload are still performing well. As is the case most weeks, no unexpected events occurred; further, all of the Jupiter observations have been conducted just as planned. Additionally, continued tracking data shows us right on course to the "Pluto keyhole" - the spot near Jupiter we have to hit to remain on target to Pluto.

This is the last week of the low-intensity observation period before the Jovian onslaught that begins this Saturday, February 24. The highlight of this coming week for me is a pair of observations by our Alice ultraviolet spectrometer, which will observe a stellar occultation of Jupiter on Thursday, probing its upper atmospheric temperature and density profile.

Next week the pace of operations reaches its crescendo near Jupiter, with some 15-20 observation sequences each day. We'll observe Jupiter, its rings, its moons and its magnetosphere.

Also next week, the New Horizons Science Team will meet to plan the data analysis activities to come, and to begin planning (already!) for our Pluto encounter. Sure the Pluto system is eight years away, but when I watched a movie last weekend on TV from 1999, I realized that eight years seemed like yesterday. So onward we go - it's a long but worthy haul to the frontier that is the Kuiper Belt.

I'll be back with more news and views next week. Keep exploring!
Related Links
Pluto and New Horizons at APL
All about the technology of space and more
News About Space Exploration Programs
Space Tourism, Space Transport and Space Exploration News
Rosetta Correctly Lined Up For Critical Mars Swingby


Paris, France (ESA) Feb 16, 2007

ESA mission controllers have confirmed Rosetta is on track for a critical 250-km Mars swingby on 25 February. Engineers have started final preparations for the delicate operation, which includes an eclipse, a signal blackout, precise navigation and complex ground tracking.