Houston Wine Company Offers Wine Discount To NASA Astronauts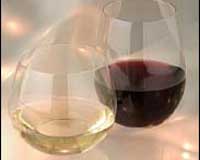 A Houston based wine company, Luko Wines, is offering a discount to NASA astronauts.
by Staff Writers

Houston, TX (SPX) Jul 31, 2007

A Houston based wine company, "Luko Wines", which makes botique wines in California has reacted to the obvious need of NASA astronauts by offering them a 10% discount. The owner, James Luko, is quoted as saying "for operational and safety reasons, it's better that our astronauts at least have access to high quality wine with low sulfites to reduce adverse reactions once they are in orbit. We support the astronauts dangerous missions and if they feel the need to supplement their training with a little, 'space juice' then why not use the best available?"

The company currently sells their wines, a Syrah and a White Rhone Blend, via their website and is negotiating with a local distributor in Houston. The owner and President of the company, James Luko, is a former United Nations diplomat who served in Bosnia, Kosovo and Croatia and up until 2005, with the Office of the Prosecutor of the UN Tribunal for the Former Yugoslavia in Belgrade.

"Our company realizes the great tension the astronauts are under and it is in this context that we hope our discount on our wines may encourage our astronauts to only drink the highest quality wine available," he said. "We produce our wines in California from the best select vineyards, but our home remains in Houston and thus we feel as 'neighbors' to NASA astronauts, it is up to us to help in whatever fashion we can."

Luko continued: "We realize that the medical panel has had concerns regarding the astronauts drinking before flights, but they should also not neglect the proven benefits red wine has on the human body. Our deep red fruity Syrah is handmade with minimal intervention and the vineyard, White Hawk Vineyard of Santa Barbara California, uses organic methods as much as possible. We proudly uphold our namesake as the Texas cowboys who make wine in Napa."
Related Links
Space Tourism, Space Transport and Space Exploration News
Heidelberg Soldiers Taste Test Two New MREs


Heidelberg, Germany (SPX) May 07, 2007

Soldiers here have just tested two new rations being fielded for servicemembers this year: an on-the-go compact ration based on pocket sandwiches, and a kind of kitchen-in-a-box that prepares hot meals for 18 people with just the pull of a tab.