STS-118 Crew Completes Countdown Rehearsal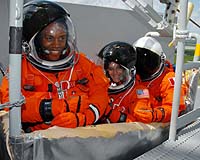 Practicing emergency egress from Launch Pad 39A, STS-118 Mission Specialists Alvin Drew and Barbara Morgan join another crew member in a slidewire basket. Photo credit: NASA/George Shelton.
by Staff Writers

Houston TX (SPX) Jul 20, 2007

Led by Commander Scott Kelly, the STS-118 crew completed a full dress rehearsal for launch on Thursday aboard Space Shuttle Endeavour. The simulated countdown at Launch Pad 39A concludes the terminal countdown demonstration test. Held at NASA's Kennedy Space Center in Florida, the test is a standard part of prelaunch training and allows the astronauts to try on their launch and entry suits, learn emergency procedures at the launch pad, and take part in a variety of familiarization activities and briefings.

With the test now successfully behind them, the seven astronauts will return to Johnson Space Center in Houston.

Space Shuttle Endeavour arrived at Launch Pad 39A early July 11, and the STS-118 payload -- including the S5 truss, SPACEHAB module and external stowage platform 3 -- is secured inside the orbiter's payload bay. Launch is targeted for the evening of Aug. 7.
Related Links
STS-118 Mission Overview
STS-118 Briefing Animations
Shuttle at NASA
Watch NASA TV via Space.TV
Space Shuttle News at Space-Travel.Com
Space Shuttle Endeavour Moved To Launch Pad


Washington (AFP) July 11, 2007

The US space shuttle Endeavour was rolled out Wednesday to its launch pad at the Kennedy Space Center in Cape Canaveral, Florida ahead of liftoff slated for August 7, NASA said. Endeavour, attached to its external fuel tank flanked by two solid rocket boosters, was moved out of its hangar overnight for the more than six-hour trip over 5.5 kilometers (3.4 miles) to the launch pad on Florida's east coast.