Russia launches US radio satellite: report

by Staff Writers

Moscow (AFP) July 1, 2009

Russia successfully launched Tuesday a US radio satellite from Russia's Baikonur cosmodrome in Kazakhstan, Russian news agencies reported.

The Proton-M rocket carrying the Sirius-FM5 satellite "successfully blasted off and shortly after placed it on the sub-orbital trajectory," space officials quoted by Interfax said.

The satellite will fully detach from the rocket's engine block nine hours after, officials added.
Share This Article With Planet Earth
Related Links
Launch Pad at Space-Travel.com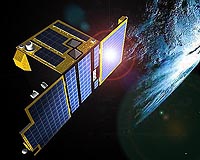 SMOS And Proba-2 Launch Rescheduled For November
Paris, France (ESA) Jun 23, 2009

Following an agreement between ESA, Krunichev Space Centre and Eurockot Launch Services, ESA's next Earth Explorer mission SMOS and a secondary payload, the technology demonstrator Proba-2 satellite, will now launch on 2 November 2009. The new November launch date follows a rescheduling of the previously announced date of 9 September. Both the Soil Moisture and Ocean Salinity (SMOS) ... read more