NASA sets Thursday for GLAST launch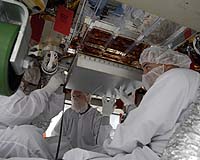 disclaimer: image is for illustration purposes only
by Staff Writers

Cape Canaveral, Fla. (UPI) Jun 2, 2008

The U.S. space agency has scheduled Thursday for the launch of its Gamma-ray Large Area Space Telescope, or GLAST.

The National Aeronautics and Space Administration said GLAST will be launched aboard a United Launch Alliance Delta II rocket. The launch window extends from 11:45 a.m. to 1:40 p.m. EDT daily through Aug. 7.

The GLAST liftoff date, originally set for Tuesday, was rescheduled to allow the launch team sufficient time to make sure remaining engineering issues are resolved, NASA said.
Related Links
Launch Pad at Space-Travel.com
Sea Launch Initiates Countdown For Launch Of Galaxy 18


Long Beach CA (SPX) May 21, 2008

The Sea Launch team arrived at the launch site in the Equatorial Pacific over the weekend and initiated a 72-hour countdown, in preparation for the launch of Intelsat┐s Galaxy 18 satellite on Wednesday, May 21. Liftoff is planned at 2:43am PDT (9:43 GMT), at the opening of a two-hour launch window.