Making the Transition From Shuttle To Constellation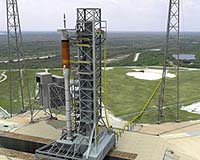 An artist's rendition of Ares I at Launch Pad 39B at NASA's Kennedy Space Center. Credit: NASA
by Staff Writers

Cape Canaveral FL (SPX) Aug 02, 2007

The United States is transitioning from a country that sends astronauts to orbit the Earth to a nation that sends humans out into the solar system. NASA is working to make this transition - from the Space Shuttle Program to the Constellation Program - seamless and safe. The agency is tapping existing people, processes, technology, infrastructure, facilities and equipment as much as possible to ensure Constellation's success.

All the while, the agency is committed to safely completing the remaining shuttle missions, including International Space Station assembly and Hubble Space Telescope servicing, key stepping stones in U.S. space exploration plans.

At NASA's Kennedy Space Center, Fla., work is under way to transition Launch Complex 39B to launch the new Ares and Orion spacecraft, which will return humans to the moon.

Kennedy's Firing Room 1 and the Operations and Checkout Building are also being transitioned to Constellation, and work will begin soon to transition the massive Vehicle Assembly Building for future spacecraft processing.
Related Links
Images of Shuttle-Constellation Transition at Kennedy
Space Tourism, Space Transport and Space Exploration News
Raytheon Launches Virtual Summer Camp For Kids


Waltham MA (SPX) Jul 27, 2007

What do wakeboarding, horseback riding, archery, rock climbing, whitewater rafting and mountain biking have to do with middle school math? These six pastimes are the basis of Camp MMU, a new program on Raytheon's MathMovesU Web site that uses popular "tween" activities to help take the monotony out of studying math during the summer break. Participants log on and choose from up to six themed "cabins" each week.