China Launches Thales-built Chinasat 6B Telecommunication Satellite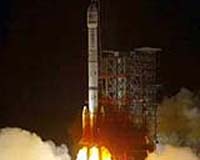 File image of Long March 3B launch.
by Staff Writers

Beijing (SPX) Jul 09, 2007

The Chinasat 6B telecommunication satellite, built by Thales Alenia Space as prime contractor, was successfully boosted into orbit on Thursday July 5, from the Xichang Satellite Launch Center in southwest China's Sichuan Province by a Long March 3B rocket. Chinasat 6B will enable ChinaSatcom to offer communication and broadcast capabilities to the Chinese market.

Based on the Thales Alenia Space Spacebus 4000 C2 platform, the satellite will be located at 115.5 degree East. Designed with a lifetime of more than 15 years, the Chinasat 6B satellite has 38 C-band transponders, a launch mass of 4.5 tons and will deliver 9.5 kW of electrical power. Thales Alenia Space has assisted ChinaSatcom for the launch campaign, and will support the company for orbital positioning and in-orbit tests.





Related Links
Launch Pad at Space-Travel.com








Russia Proton-M Booster Puts US Satellite Into Orbit


Baikonur, Kazakhstan (RIA Novosti) Jul 09, 2007

A Russian Proton-M carrier rocket has successfully delivered U.S. telecommunications satellite, DirecTV-10, into orbit, Russia's space agency said. The rocket, powered by a Briz-M booster was launched from the Baikonur space center in Kazakhstan at 5.16 a.m. Moscow time Saturday (1.16 a.m. GMT). The launch services were provided by International Launch Services, a U.S.-Russian joint venture with exclusive rights for worldwide commercial sales and mission management of satellite launches on Russia's Proton carrier rockets.