Astronauts For Shuttle Japanese Experiment Module Kibo Mission Assigned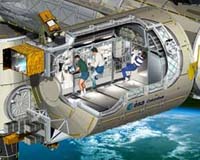 The Kibo Module.
by Staff Writers

Tokyo (SPX) Feb 01, 2007

The National Aeronautics and Space Administration (NASA) announced the selection of the following astronauts as crew members for the Space Shuttle mission to assemble the Japanese Experiment Module (JEM) "Kibo" (1J/A.) The Kibo, which has been developed by the Japan Aerospace Exploration Agency (JAXA) as part of the International Space Station (ISS) Program, is scheduled to be launched by three Space Shuttle missions.

On the first of the three missions, the Experiment Logistics Module Pressurized Section will be attached to the ISS. This mission also will deliver the Canadian Space Agency's Dextre robotic system.

Astronaut Takao Doi has been assigned as a crew member on this mission. Astronaut Naoko Yamazaki will assist the mission from the ground as the Crew Support Astronaut (CSA).
Related Links
More at JAXA
Space Station News at Space-Travel.Com
Station at NASA
Station and More at Roscosmos
S.P. Korolev RSC Energia
Watch NASA TV via Space.TV
Space Station News at Space-Travel.Com
Russia Eyes Longterm Plan To Keep Station Operational Until 2025


Moscow (RIA Novosti) Jan 31, 2007

The International Space Station will likely remain operational until 2025, the head of the Russian spacecraft manufacturer Energia said Tuesday, adding that by 2009-2015, Russia will be the only country able to deliver crews to the station. "No one is going to sink or drop the ISS, as all countries realize that the station is becoming a full-scale industrial facility in space. Although it is scheduled for decommissioning in 2015, its operational life could be prolonged until 2025," Nikolai Sevastyanov said.