Arianespace Flight 199: Launch Postponed 24 Hours

-
by Staff Writers

Kourou, French Guiana (SPX) Dec 29, 2010

The launch of Arianespace Flight 199 has been postponed for 24 hours due to the unfavourable weather conditions over the launch pad in Kourou, French Guiana.

Flight 199 will place into geostationary transfer orbit the Hispasat 1E and KOREASAT 6 telecommunications satellites.

Depending on weather conditions in Kourou, another launch date will be decided for the evening of Wednesday, December 29, 2010.
Share This Article With Planet Earth
Related Links
Arianespace
Launch Pad at Space-Travel.com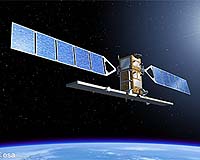 Arianespace To Launch ESA's First Sentinel Satellite
Paris, France (ESA) Dec 17, 2010

ESA and Arianespace have signed a contract for the launch of Sentinel-1A, the first Earth observation satellite to be built for Europe's Global Monitoring for Environment and Security programme. Sentinel-1A is scheduled for launch in December 2012 by a Soyuz rocket from Europe's Spaceport in French Guiana. Weighing about 2300 kg at launch, it will be placed into a Sun-synchronous, circula ... read more