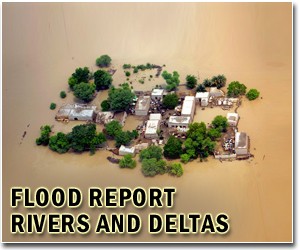 Sri Lanka floods worsen, toll hits 12
Colombo (AFP) Jan 10, 2011 - Heavy rains lashed Sri Lanka's central and eastern regions Monday with the death toll from mudslides rising to 12 and 900,000 people driven out of their flooded homes, officials said. Military helicopters were deployed to rescue marooned villagers while security forces were distributing food and helping with relief efforts, N.B. Weragama, spokesman for the disaster management centre in Colombo, said. "Nearly 900,000 people have been affected by heavy flooding," he added. Five more bodies were recovered from mudslides during the day after seven people died on Saturday and Sunday. Schools in the region were closed and transport severely affected. Sri Lanka depends on monsoon rains for irrigation and power generation, but the seasonal downpours frequently cause deaths and damage to property in low-lying areas. The island's two main monsoon seasons run from May to September and December to February.

Two dead, over 3,000 displaced in Malaysia floods
Kuala Lumpur (AFP) Jan 10, 2011 - Two teenagers have been killed and about 3,100 people displaced as seasonal floods hit northern Malaysia, police said Monday. Police officials in Malaysia's Kelantan state said the floods had claimed the lives of a 10-year-old girl on Friday and a 17-year-old boy on Sunday. Both drowned after playing in flood waters near their homes. "The flood situation has improved as the waters have started to recede," Azli Noor, the state's police public order department chief told AFP. "There are 3,095 evacuees remaining in 13 relief centres as of late Monday," he said, adding that the number was down from about 3,700 recorded on Sunday. State media have reported that 22 schools in the state remain closed due to the floods, affecting some 10,818 students.

Floods hit Germany
Berlin (AFP) Jan 10, 2011 - Several German cities battled with severe floods Monday as melting snow and heavy rains combined to make rivers burst, as authorities warned of more bad weather to come. In the historic western city of Koblenz, which stands at the confluence of the Rhine and Moselle rivers, inhabitants could only reach their homes by means of heavy vehicles or boats. Authorities registered a water mark of 7.55 metres (24.7 feet), more than three times the normal level. And fears were rising for the city of Cologne on the Rhine, with the water rising by two centimetres (0.8 inches) per hour.

Police in boats and helicopters were continuing the search for a 59-year-old man in the central German state of Thuringia after his car became engulfed in the flood. Authorities so far have found only the vehicle. And in Bochum, in the west, police fished a 68-year-old out of the icy waters of the Ruhr. The German weather service forecast more rain, with snow on higher ground for Tuesday and Wednesday. However, in other parts of the country, the situation eased. In the southwestern state of Rhineland-Palatinate which borders on France, the waters have begun to recede, allowing authorities to begin a clear-up operation.
Eight people died and scores were missing on Tuesday after giant flash floods smashed through an Australian town like an "inland tsunami", dramatically escalating a widespread flood crisis.

Officials said the death toll was expected to rise after fast-running torrents of water devastated the rural town of Toowoomba and other nearby areas, sweeping away cars and leaving survivors clinging to trees.

"These are shocking and heartbreaking circumstances involving young families and young children in a very rapidly unfolding situation," Queensland state premier Anna Bligh said.

TV images showed streets turned into churning rapids dotted with floating cars, some with people sitting on top, while elsewhere residents were forced on top of buildings as water-levels reached their roofs.

A woman and two children were found dead in Toowoomba city centre, which lies 125 kilometres (80 miles) west of the state capital, Brisbane, while a man and a boy were killed at nearby Murphys Creek, officials said.

Disaster coordinator Ian Stewart said rescue teams were searching for 72 people reported missing, adding that he had serious concerns about the township of Grantham, where dozens of people are stranded.

"Grantham is going to be, in my view, just a disaster in terms of the number of homes that have been damaged or destroyed and we're waiting on confirmation of potential extra loss of life," Stewart said.

The flash floods were caused by torrential rains falling on Australia's flood-stricken northeast, where overflowing rivers have afflicted a huge area the size of France and Germany combined at huge economic cost.

Federal MP Ian MacFarlane described dramatic scenes in Toowoomba as the flash flood deluged the town before subsiding within three hours, leaving scenes of destruction and people dead in their cars.

"We're just seeing building after building, the water rushing in and blowing the windows out," MacFarlane told Sky News. "Cars that were parked in the carparks were just lifted up and went bobbing down the street."

"I've lived in Toowoomba for 20 years and I've never seen anything like that. This is flooding without precedent in Toowoomba," he added.

Helicopter rescue teams sent to search for the missing in the Lockyer Valley region were hampered by further heavy rains on Tuesday.

"This has been a terrible day, a terrible day," said police commissioner Bob Atkinson.

"Early reports would indicate that what hit Toowoomba could best be described as an inland instant tsunami, with a massive wall of water that's gone down through the Lockyer Valley."

Bligh called the waters "a freak of nature" and said Queensland was facing its "darkest hour".

"This is going to be I think a very grim day, particularly for the people in that region, and a desperate hour here in Queensland," she said.

"Mother Nature has unleashed something shocking on the Toowoomba region," Bligh said earlier. "This is without a doubt our darkest hour of the last fortnight."