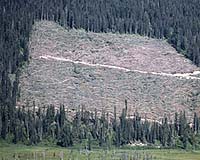 Malaysian native leader detained over anti-logging blockade
Malaysian police said Saturday they had arrested a native leader who set up roadblocks in Borneo to stop a logging firm from encroaching on their ancestral land. Ondie Jugah, 55, from the Iban indigenous group, was among a group of 10 people who have mounted a blockade since early this week in the interior of eastern Sarawak state, on Borneo island. Police said Ondie was detained late Friday after he refused to remove the blockade, following complaints filed by the logging company. "We directed him to open up the road but he refused, so we have to take him back to facilitate investigation," a senior police official from the local Kapit district, who did not want to be named, told AFP. Police said Ondie was expected to be released later Saturday after questioning. Ondie's son, Anthony, urged the police to release his father, saying they were merely protecting their home. "They (the logging company) want to destroy our land and did not want to compensate us," the 29-year-old told AFP. Nicholas Mujah, secretary general of indigenous rights group Sarawak Dayak Iban Association, condemned the arrest as a form of "harassment" of the vulnerable group and demanded the authorities respect native land rights. The native Iban people are the largest indigenous group in Sarawak, making up almost half of the state's two million population. Other indigenous groups include Kenyah, Kayan and about 10,000 Penan people. The Penan, some of whom are nomadic hunter-gatherers, have complained that their way of life is under threat from extensive logging of their traditional hunting grounds, as well as the spread of palm oil and timber plantations.
The equivalent of 36 football fields are being stripped from the world's forests each minute, the environmental group World Wide Fund for Nature (WWF) said in a statement released here on Thursday.

The group, presenting its figures during a UN-organized World Forestry Congress held in the Argentine capital, called for "net deforestation of zero" by 2020.

Rodney Taylor, in charge of the WWF's forestry program, said the call underlined the "urgency" of confronting deforestation threats "to maintain the planet's health."

The appeal was not a call for deforestation to be stopped completely, but rather that the devastation of forests be compensated with forest renewal initiatives.

According to the WWF, the pace of deforestation "generates around 20 percent of global emissions of greenhouse gases."

In Argentina, the menace was seen with massive eradication of forests in the central and north of the country to make way for lucrative soja crops.

The country has only 30 percent of its original forests, according to a document presented by five environmental groups including Greenpeace and Argentina's Forestry Life Foundation.

The World Forestry Congress is to run to Friday.

It gathers 3,500 delegates from 160 countries whose conclusions are to provide some groundwork for a UN climate change summit to be held in Copenhagen next month.

The summit is expected to see rich countries set goals to reduce greenhouse gas emissions.

Taylor said he expected those goals would aim for a 40 percent reduction by 2020, and financing of 160 billion dollars to help developing countries cut their emissions by 30 percent.