240,000 short of water in southern China drought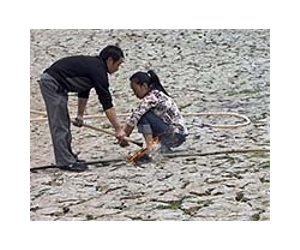 China prosecutes 3,400 officials for environmental abuse
Beijing (AFP) Jan 30, 2010 - China has prosecuted nearly 3,400 officials in 19 months for environmental abuses that killed about 3,600 people and cost the economy hundreds of millions of dollars, state media reported Saturday. Officials responsible for water, mining, forestry, construction and environmental protection were among those prosecuted, the Supreme People's Procuratorate said in a statement reported by the official Xinhua news agency. It, however, did not say how many of the 3,391 officials charged between April 2008 and November 2009 were convicted. Together the abuses led to the death of 3,591 people and left 354 seriously injured, Xinhua said, adding direct economic losses totalled 4.9 billion yuan (710 million dollars). Low-level officials had been offered bribes, the report said, but gave no further details of any of the cases. In addition, prosecutors investigated more than 7,000 cases of officials' failing to carry out their duties and violating citizens' rights last year, Xinhua said, adding those cases led to 6,466 officials being convicted. Among that total, 3,175 cases were deemed "serious" or "major", Xinhua said. An emphasis on economic growth has lead to widespread disregard for environmental protection in China.
by Staff Writers

Beijing (AFP) Jan 30, 2010

Officials warned Saturday that 240,000 people were suffering from water shortages in a mountainous region in southern China that has been hit by a five-month-long drought, state media reported.

Western and northwestern parts of the Guangxi region have had little rain since August, forcing villagers to travel kilometers (miles) to fetch water, the official Xinhua news agency reported.

"Local governments have been sending water trucks to those villages that suffer severe shortages," a spokesman at the drought relief headquarters was quoted as saying.

"We are organising local residents to dig wells and divert water from elsewhere to the drought-hit areas," the spokesman said.

Drought has hit several parts of north, central and southern China in the past year, leaving millions short of water.

Nearly five million people were affected by a three-month drought that hit in late July in an area spanning Inner Mongolia in the north to Jilin province in the northeast, earlier state media reports said.

In Liaoning province, next to Jilin, the situation was the worst in 60 years, with half of all arable land having dried up, reports said.

Meanwhile, the provinces of Hubei, Hunan, and Guangdong also suffered droughts, as they have been hard hit by a combination of low rainfall and higher than normal temperatures, reports said.
Share This Article With Planet Earth
Related Links
Our Polluted World and Cleaning It Up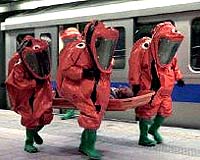 Study Sees Little Dust Risk For Subway Workers
New York NY (SPX) Jan 26, 2010

New York subway commuters may worry more about rats and rising fares than dust floating through the system, but for the workers who spend their whole shift below ground, air quality has long been a concern. Results from a new pilot study using miniaturized air samplers to look at steel dust exposure may help them breathe easier. Steel dust, produced as thousands of train wheels roll throug ... read more