2007 Solar Decathlon Feature Alcoa Building And Construction Systems' Products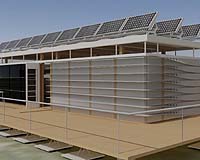 An architectural 3D rendering shows what Georgia Tech's finished energy efficient, solar powered house will look like. Alcoa's Kawneer's 190 Standard Entrances and Trifab VersaGlaze 451 framing surrounded by Alcoa Architectural Products' Reynobond Aluminum Composite Material (ACM) panels form the entrance areas (front and side) for Georgia Tech's energy-efficient house. A ribbon of glass at the roof line uses Kawneer's 1600 SS(TM) (Screw Spline) curtain wall and Storefront GLASSvent(TM) windows (installed at the corners). (Photo: Business Wire)
by Staff Writers

Norcross GA (SPX) Oct 16, 2007

Alcoa announced that products from two of its Building and Construction Systems businesses - Kawneer Company and Alcoa Architectural Products - are used extensively by a team from Georgia Institute of Technology in the 2007 Solar Decathlon now taking place in Washington, D.C. This week, 20 teams from colleges and universities from around the globe are participating in the competition to design, build, and operate attractive, energy-efficient solar-powered homes transforming the National Mall into a solar village. The team from Georgia Tech is sponsored in part by Kawneer and its sister company, Alcoa Architectural Products.

The 800 square-foot homes must be powered entirely by the sun, challenging the teams to design and build with innovative materials and concepts. The Georgia Tech team, led by the College of Architecture and made up of more than 80 students and faculty members, began work on the design and construction of the home in spring 2006. Georgia Tech's energy-efficient house features Kawneer's 190 Standard Entrances, Trifab VersaGlaze 451 framing, Storefront GLASSvent windows, and 1600 SS (Screw Spline) curtain wall. Kawneer products were primarily selected for the aesthetics of the house and because aluminum is recyclable. The house also features Alcoa Architectural Products' Reynobond Aluminum Composite Material (ACM). Reynobond ACM was chosen for its aesthetics and because the aluminum used in making Reynobond ACM has a high recycled content.

Georgia Tech and the other 19 teams have transported their solar houses to Washington, D.C., where they are competing in 10 contests to determine an overall winner. Following the competition, Georgia Tech's house will return to the school where it will operate as a renewable energy demonstration tool and research lab, as well as serve students interested in contemporary ecological design.

"We're very proud to sponsor the Georgia Tech team in this endeavor," said Clive Copsey, Global Director, Innovations, Alcoa Building and Construction Systems. "And because the Solar Decathlon promotes the research and development of energy efficiency and energy production technologies, it is truly a 'win-win' situation."
Related Links
All About Solar Energy at SolarDaily.com
Innovalight Raises 28 Million Dollars For Solar Product Development


Santa Clara CA (SPX) Oct 16, 2007

Innovalight announced that the company has raised $28 million in new capital. With new financing in hand, the Company is relocating to a new 30,000 square foot manufacturing facility in Sunnyvale, California. This series C financing was led by Norway-based investor, Convexa Capital and supported by Scatec AS. Existing investors Apax Partners, ARCH Venture Partners, Harris and Harris Group, Sevin Rosen Funds and Triton Ventures also participated in this financing.