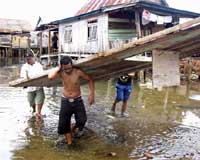 Recent disasters in Indonesia
A dam burst its banks near the Indonesian capital Jakarta on Friday, drowning at least 54 people. The following is a list of major disasters to strike Indonesia since the Asian tsunami in 2004:

+ December 26, 2004: A massive undersea earthquake off the coast of Sumatra island triggers a tsunami which kills 220,000 in countries around the Indian Ocean, including 168,000 in Indonesia.

+ February 21, 2005: A garbage landslide buries a shantytown in Cimahi, southeast of Jakarta, killing more than 140 people.

+ March 28, 2005: An earthquake on Nias island off Sumatra leaves 900 dead.

+ September 5, 2005: A Mandala Airlines Boeing 737 crashes in a town in Sumatra, killing 150 people.

+ May 27, 2006: An earthquake in the Yogyakarta region kills 6,000 and leaves 1.5 million homeless.

+ June 20-24, 2006: Floods on the island of Sulawesi leave 250 dead, 100 missing and 13,000 homeless.

+ July 17, 2006: A tsunami off the coast of Java kills 650 people and leaves more than 100,000 homeless.

+ December 29, 2006: A passenger ferry carrying some 600 people sinks in the Java Sea with more than 350 dead or still missing.

+ January 1, 2007: An Adam Air Boeing 737 vanishes off Sulawesi island with all 102 people on board killed.

+ February, 2007: Massive floods inundate Jakarta, leaving some 80 dead, dozens missing and some 500,000 people affected in all.

+ February 22, 2007: A ferry catches fire off Jakarta, killing at least 53.

+ March 3, 2007: At least 36 people in landslides and flash floods on Flores island.

+ March 6, 2007: A quake measuring 6.3 hits Sumatra, flattening buildings and killing at least 71 people.

+ March 7, 2007: A Garuda Indonesia Boeing 737 crashes at Yogyakarta airport, killing 21 people.

+ July 24, 2007: Floods and landslides in Central Sulawesi province kill 66 people.

+ October 22, 2007: A ferry sinks off Sulawesi island, killing 31.

+ December-January, 2007: Floods and landslides triggered by monsoon rains kill more than 100 people on the main island of Java.

+ May 5, 2008: A landslide in Papua kills at least 19 illegal miners near US giant Freeport's massive Grasberg gold and copper mine.

+ January 11, 2009: A ferry sinks in the Makassar Strait between Sulawesi and Borneo islands during a tropical storm, killing up to 335.

+ March 27, 2009: A dam bursts next to a crowded neighbourhood outside the capital Jakarta, killing at least 54 people and inundating and destroying hundreds of houses.
Rescue workers in Indonesia searched Saturday for 100 people still missing after a dam burst sending a torrent of water crashing into a Jakarta suburb, as the official death toll rose to 77.

Hundreds of buildings collapsed when a wall of water broke through the man-made earthen dam early Friday as residents slept in their beds.

"The impact of the Situ Gintung dam has killed 77 people and injured 179 people. A hundred people are still missing," Health Ministry's Crisis Centre head Rustam Pakaya said through a text message.

He said it was difficult to establish exactly how many people had been killed because some residents of the Cireundeu and Ciputat suburbs had the same name.

Pakaya said that the health ministry has distributed aid packages to the affected people including medicines.

Rescue workers continued to work through the day, scouring the mounds of mud and debris to search for missing people after what one local compared to the 2004 tsunami that killed 168,000 people in Indonesia.

"The rescue team is in full spirits to help their brothers and sisters," coordinator Suyatno, who only uses one name, said.

"There is a lot of debris but we will manage to search through it, despite the difficulty.

"We'll continue to search until we are told to stop -- if necessary we will work late into the night," Suyatno said.

The 10-metre-high (33-foot) Situ Gintung dam was built in 1933 when Indonesia was under Dutch colonial rule. Authorities blamed the disaster on high water pressure following an intense downpour.

One resident, Supeje Sugeng, however said the dam had burst because it had not been properly maintained.

"We'll see if we should ask the government for compensation. Right now, we're just focusing on finding the missing people," he said.

The Jakarta Globe said that such tragedies occurred too often in Indonesia.

"Whether due to lack of resources or just pure inertia, upkeep of major infrastructure is generally poor. Roads are often destroyed during the rainy season due to the poor quality of materials used and floods are a common occurrence," the English-language daily said in an editorial.

Slamet Daroyni, executive director of the Jakarta office of the Indonesian Forum for the Environment, said local residents had previously complained about leaks in the earthen dam.

"The central government and local administrations have been slow in their action," he said.

Daroyni said that after floods in 2007, the administrations of Jakarta and its neighboring provinces of West Java and Banten made a joint commitment to improve the condition of the dams and lakes.

"The government failed to install an early warning system for the area, which is prone to such disasters. They should've warned the residents not to sleep during heavy downpours."

Although some residents had been aware of the dangerous situation before the dam collapsed, the lack of a warning system and clear street signs for evacuation caused the accident to be a catastrophe, he said.

Floods and landslides are common in Indonesia during the wet season, which falls around the northern hemisphere's summer.