US Gyrodyne Repaired On Space Station Says RSA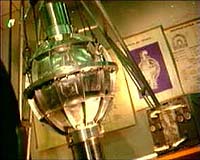 Close up of a gyrodyne on the ISS.
by Staff Writers

Moscow (RIA Novosti) Feb 12, 2007

One of the U.S. gyrodynes on the International Space Station, disconnected Sunday due to a malfunction, has been repaired and put back into operation, the Russian space agency said Tuesday. Gyrodynes are used to maintain the ISS's orientation in orbit. At least two gyrodynes need to be in working order for the station to remain correctly positioned, but all four must be fully operational for the station to be stable, otherwise it must burn additional fuel and risks losing its communication link with the Earth.

"A one-time malfunction occurred in the power supply system of gyrodyne No.2 on the American segment of the ISS, as well as in the communications system. The gyrodyne was stopped, and there were interruptions in communication with the American segment. The malfunction did not lead to a loss of orientation by the station or an operation failure of the ISS's Russian segment," press secretary Igor Panarin said.

The current crew of the world's sole orbital station comprises U.S. astronaut Michael Lopez-Alegria and Russian cosmonaut Mikhail Tyurin, who arrived at the station on September 20, and U.S. astronaut Sunita Williams, who replaced the European Space Agency's German astronaut Thomas Reiter in December 2006, and who will remain on the ISS for another several months.
Related Links
Space Station News at Space-Travel.Com
Station at NASA
Station and More at Roscosmos
S.P. Korolev RSC Energia
Watch NASA TV via Space.TV
Space Station News at Space-Travel.Com
Russia To Launch Laboratory Module To ISS In 2009


Moscow (RIA Novosti) Feb 13, 2007

The completion of a laboratory module for the International Space Station depends on financing, but it should be ready for launch in 2009, the head of the Khrunichev State Space Scientific Production Center said Monday. Vladimir Nesterov said the Moscow-based center has completed 65-70% of the multipurpose module's construction, which was designed to develop research, functional and other opportunities of the Russian segment of the ISS and "is expected to be launched in 2009 by the Proton booster."