Station Recovers From Power Loss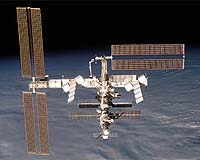 The International Space Station is pictured after Space Shuttle Discovery undocked in Dec. 2006 during mission STS-116. Image credit: NASA
by Staff Writers

Houston TX (SPX) Feb 13, 2007

Mission control teams are working to assess systems affected by a power loss aboard the International Space Station early Sunday morning. The station's three crew members were not in any danger, but it did turn an off-duty day into a full work shift. About 1 a.m. EST, one of the power channels of the P4 solar array electrical system went down because of a glitch with a device known as a direct current switching unit. It controls power distribution from the solar array to the battery systems and other hardware.

The glitch resulted in a temporary loss of communications, and shut down some equipment, including a few science facilities and heating units and control moment gyroscope #2. The station never lost orientation control, but it operated most of the day with two of four gyros. Control moment gyroscope #3 previously had been powered down.

Flight controllers restored power to nearly all affected systems and equipment by Monday morning. They are still investigating what caused the glitch, but they believe it was an isolated event.
Related Links
Station at NASA
Station at NASA
Station and More at Roscosmos
S.P. Korolev RSC Energia
Watch NASA TV via Space.TV
Space Station News at Space-Travel.Com
Russia To Launch Laboratory Module To ISS In 2009


Moscow (RIA Novosti) Feb 13, 2007

The completion of a laboratory module for the International Space Station depends on financing, but it should be ready for launch in 2009, the head of the Khrunichev State Space Scientific Production Center said Monday. Vladimir Nesterov said the Moscow-based center has completed 65-70% of the multipurpose module's construction, which was designed to develop research, functional and other opportunities of the Russian segment of the ISS and "is expected to be launched in 2009 by the Proton booster."