Station Crew Prepares For Spacewalk And STS-118 Shuttle Endeavour Mission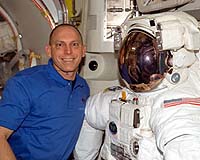 Astronaut Clay Anderson, Expedition 15 flight engineer, works with a spacesuit in the Quest Airlock of the International Space Station. Image credit: NASA
by Staff Writers

Houston TX (SPX) Jul 17, 2007

Commander Fyodor Yurchikhin and Flight Engineer Clay Anderson are gearing up for next Monday's spacewalk. The crew has been configuring spacewalk tools and reviewing spacesuit systems. The July 23 spacewalk will be Anderson's first and Yurchikhin's third.

In advance of space shuttle Endeavour visiting the International Space Station in August, the crew has been packing items for return to Earth on the shuttle. Clay Anderson has also been practicing Rendezvous Pitch Maneuver (RPM) photography with a digital camera. The RPM imagery is taken of the shuttle's thermal protection system as it approaches the station.

The U.S. Oxygen Generation System (OGS) has been deactivated for approximately 90 days. Reactivation of the OGS will not occur until after Expedition 16 arrives at the station in October.
Related Links
Expedition 15
Station at NASA
Station and More at Roscosmos
S.P. Korolev RSC Energia
Watch NASA TV via Space.TV
Space Station News at Space-Travel.Com
Atlantis Readies For Columbus Mission


Cape Canaveral FL (ESA) Jul 16, 2007

More than 500 years ago, the voyages of Christopher Columbus to the New World and the discoveries he made caused quite a stir throughout Europe. Today, excitement is building on both sides of the Atlantic as the long-awaited launch of ESA's Columbus space laboratory grows closer, as NASA starts processing Shuttle Atlantis in preparation for the mission.