SpaceDev Conducts Hot-Fire Test Of Hybrid Upper Stage Rocket Motor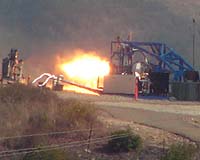 All the action at the test site.
by Staff Writers

Poway CA (SPX) Feb 02, 2007

SpaceDev has announced that it has completed a series of three hot-fire tests of its hybrid upper stage motor, part of the SpaceDev Streaker Small Launch Vehicle development program. The tests demonstrated the ability to restart a partially spent motor grain and tested a new injector configuration intended to improve motor performance and stability. The tests were conducted at SpaceDev's new hybrid rocket test site in southern Orange County, CA, which will eventually be upgraded to accommodate test firings of larger and more powerful motors.

"These events successfully conclude this phase of motor firings intended to demonstrate the performance and stability of SpaceDev's hybrid upper stage motor configuration," said Mark N. Sirangelo, SpaceDev's Chairman and Chief Executive Officer. "We are very pleased with the results of the series, in particular, the demonstration of restartability of this hybrid configuration. The results help to validate a capability of the hybrid motors important for both launch vehicle and orbital transfer applications."

SpaceDev is developing its hybrid upper stage technology under contract with the Air Force Research Laboratory at Edwards AFB.
Related Links
SpaceDev
Rocket Science News at Space-Travel.Com
Rocket Science News at Space-Travel.Com
Lockheed Martin Readies For Orion Crew Exploration Vehicle At Kennedy Space Center


Cape Canaveral FL (SPX) Jan 30, 2007

In another milestone marking steady progress on the Orion crew exploration vehicle program, the Lockheed Martin team accepted responsibility today for the Operations and Checkout (OandC) Building at the NASA's Kennedy Space Center. Lockheed Martin will use the historic facility to process Orion, America's next-generation human spacecraft. The transition announcement was made in a ceremony held today at Kennedy Space Center's OandC Building originally used for the Apollo program.