Soyuz TMA-10 Spacecraft To Launch Expedition 15 Crew To ISS On April 7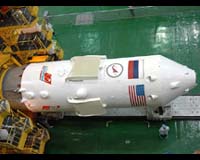 File image of a Soyuz TMA spacecraft.
by Staff Writers

Moscow (RIA Novosti) Feb 22, 2007

A Soyuz TMA-10 spacecraft with 15th International Space Station (ISS) expedition will be launched April 7, 2007 from the Baikonur space center in Kazakhstan, the Russian Space Agency said Tuesday. The 15th ISS expedition comprises two Russian astronauts Fyodor Yurchikhin and Oleg Kotov and U.S. millionaire Charles Simonyi, who is set to fly to the ISS as a space tourist.

Simonyi, an American of Hungarian origin and one of the founders of Microsoft Corporation, said earlier last week he planned to conduct experiments in orbit on behalf of the European Space Agency, and also to carry out his own scientific program, particularly, a medical experiment to study radiation effects on humans.
Related Links
News About Space Exploration Programs
Space Station News at Space-Travel.Com
Station at NASA
Station and More at Roscosmos
S.P. Korolev RSC Energia
Watch NASA TV via Space.TV
Space Station News at Space-Travel.Com
ISS Crew Continue Preparations For Spacewalk


Houston TX (SPX) Feb 20, 2007

This week, the Expedition 14 crew continued to focus on preparation for their final planned spacewalk ahead of the space shuttle Atlantis' arrival in March. This comes following Sunday's unexpected circuit breaker trip on the International Space Station and subsequent resetting of affected equipment.