Soyuz TMA-10 Delivered To Baikonur For Final Processing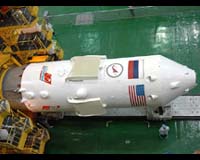 A Soyuz TMA class during processing.
by Staff Writers

Baikonur, Kazahhstan (SPX) Feb 15, 2007

On February 12, 2007 manned transport space vehicle Soyuz TMA-10 was delivered to Baikonur Cosmodrome for final pre-launch processing and launch operations.

In early April this space vehicle will bring up Russian cosmonaut Oleg Kotov, Vehicle Commander, ISS Flight Engineer (Yu.A. Gagarin CTC RGNII), Russian cosmonaut Fedor Yurchikhin, Vehicle Flight Engineer, ISS Commander (S.P. Korolev RSC Energia) and US citizen Charles Simonyi, spaceflight participant to the International Space Station to perform Expedition 15 and Russian Visiting Crew 12 program activities.
Related Links
Space Station News at Space-Travel.Com
Station at NASA
Station and More at Roscosmos
S.P. Korolev RSC Energia
Watch NASA TV via Space.TV
Space Station News at Space-Travel.Com
US Gyrodyne Repaired On Space Station Says RSA


Moscow (RIA Novosti) Feb 12, 2007

One of the U.S. gyrodynes on the International Space Station, disconnected Sunday due to a malfunction, has been repaired and put back into operation, the Russian space agency said Tuesday. Gyrodynes are used to maintain the ISS's orientation in orbit. At least two gyrodynes need to be in working order for the station to remain correctly positioned, but all four must be fully operational for the station to be stable, otherwise it must burn additional fuel and risks losing its communication link with the Earth.