Pratt And Whitney Rocketdyne Awarded NASA Contract For J-2X Ares Rocket Engine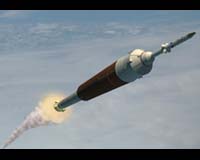 -
by Staff Writers

Canoga Park CA (SPX) Jul 20, 2007

Pratt and Whitney Rocketdyne (PWR) was awarded a NASA contract valued at $1.2 billion to design, development and test a J-2X engine that will power the upper stages of the Ares I and Ares V launch vehicles. "We are very proud to have been selected by NASA to power the return of U.S. astronauts to the moon and beyond," said Stephen Finger, president, Pratt and Whitney. "This contract award is another important milestone in the partnership between Pratt and Whitney Rocketdyne and NASA, which spans more than half a century."

Building on the experience and legacy of the Apollo-Saturn Program, the J-2X is powered by liquid oxygen and liquid hydrogen, and will provide 294,000 pounds of thrust to power the Ares vehicles. The J-2X incorporates significant upgrades to meet the higher performance and reliability requirements for the Ares vehicles. The contract award includes ground and test flight engines and extends through Dec. 31, 2012.

"The J-2X builds on our knowledge and experience with the proven J-2 and J-2S engines, while simultaneously integrating state-of-the-art technology in order to give NASA a powerful, cost-effective, reliable engine," said Jim Maser, president, Pratt and Whitney Rocketdyne.
Related Links
Rocket Science News at Space-Travel.Com
Ares Team Validates Manufacturing Processes For Common Bulkhead Demonstration


Huntsville AL (SPX) Jul 18, 2007

As part of the Alliant Techsystems-led team and its risk reduction efforts focused on the Ares I upper stage production proposal, Lockheed Martin has completed fabrication of two common bulkhead demonstration articles. Team Ares led by ATK includes major subcontractors Lockheed Martin, and Pratt and Whitney Rocketdyne, Inc.