Discovery's Payloads Installed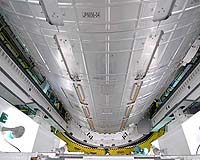 At Kennedy Space Center's Launch Pad 39A, the STS-124 payloads are transferred from the launch pad's payload changeout room to space shuttle Discovery's payload bay. Photo credit: NASA/Jim Grossman.
by Staff Writers

Cape Canaveral FL (SPX) May 06, 2008

Space shuttle Discovery made the long, slow trek out to Launch Pad 39A at NASA's Kennedy Space Center on Saturday. Carried by the slow-moving crawler-transporter, the shuttle assembly atop the mobile launcher platform began rolling out of the Vehicle Assembly Building at 11:47 p.m. EDT Friday night and was secured at the pad at 6:06 a.m. The 3.4-mile journey is one of the last major milestones leading up to the launch of Discovery on the STS-124 mission, targeted for May 31.

The canister carrying the STS-124 payloads arrived at the launch pad April 29. Primary payloads are the tour-bus-sized Japanese Experiment Module-Pressurized Module and the lab's robotic arm system. With Discovery in place at the launch pad, the payload components have been installed in the orbiter's payload bay.

The STS-124 crew members, commanded by astronaut Mark Kelly, are set to arrive at Kennedy on May 6 for the Terminal Countdown Demonstration Test. The three-day event concludes May 9 with a full dress rehearsal of the launch countdown.
Related Links
Meet the Crew
Shuttle at NASA
Watch NASA TV via Space.TV
Space Shuttle News at Space-Travel.Com
Space Shuttle Discovery Arrives At Launch Pad


Cape Canaveral FL (SPX) May 05, 2008

After safely reaching its launch pad at NASA's Kennedy Space Center, space shuttle Discovery now awaits its next major milestone for the upcoming STS-124 mission. A launch dress rehearsal, known as the terminal countdown demonstration test, is scheduled to take place at Kennedy from May 6 to 9.