DemoFlight 2 Launch Update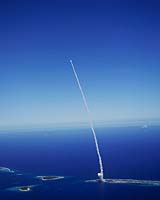 File photo of a launch at the Kwajalein Army Range.
by Staff Writers

Los Angeles CA (SPX) Feb 09, 2007

Space X has reported in a brief posting to its website by CEO Elon Musk that the Kwajalein Army Range will have insufficient resources to support Space X testing and launch activities during the rest of February. According the posted statement "Several range personnel critical to the launch safety process will be unavailable. The earliest launch window available from the Range will open March 9.

The rest of Musk's statement details Space X plans for the rest of 2007, with Falcon 1 scheduled to launch a satellite for the US Navy Research Laboratory (funded by the Office of Force Transformation) in late summer and then a satellite for the Malaysian Space Agency late in the year. We are also building an additional Falcon 1 vehicle in the event that some promising customer discussions culminate in a fourth Falcon 1 launch this year.
Related Links
Space X
Rocket Science News at Space-Travel.Com
Rocket Science News at Space-Travel.Com
SpaceDev Conducts Hot-Fire Test Of Hybrid Upper Stage Rocket Motor


Poway CA (SPX) Feb 02, 2007

SpaceDev has announced that it has completed a series of three hot-fire tests of its hybrid upper stage motor, part of the SpaceDev Streaker Small Launch Vehicle development program. The tests demonstrated the ability to restart a partially spent motor grain and tested a new injector configuration intended to improve motor performance and stability. The tests were conducted at SpaceDev's new hybrid rocket test site in southern Orange County, CA, which will eventually be upgraded to accommodate test firings of larger and more powerful motors.