$350-Million Spacecraft - Unload Carefully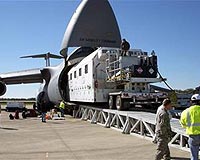 (U.S. Air Force photo/Master Sgt. Chris Hennion)
by Staff Writers

Travis AFB CA (SPX) Feb 06, 2009

Aircrews from Travis Air Force Base, Calif., and Boeing employees offload a Wideband Global SATCOM spacecraft from a C-5 Galaxy Jan. 21 at Cape Canaveral Air Force Station, Fla.

The equipment is part of an Atlas 5 rocket mission set to launch March 9. The 3rd Space Operations Squadron at Schriever AFB, Colo., performs command and control for WGS.
Related Links
Boeing
Space Technology News - Applications and Research
ISRO-Built Satellite Fails After Five Weeks


Bangalore, India (PTI) Feb 02, 2009

The very first communications satellite sold by the Indian Space Research Organization (ISRO) to the European operator Eutelsat has failed abruptly after five weeks in orbit, in a setback to ISRO which just celebrated the 100th day of its successful moon mission.