209 injured in Iran quake: report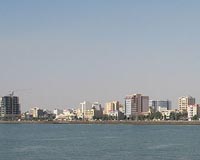 Bandar Abbas.
by Staff Writers

Tehran (AFP) Nov 4, 2009

A 4.9-scale earthquake struck the southern Iranian port city of Bandar Abbas early Wednesday injuring at least 209 people, according to the official news agency Irna.

The quake struck at 2:56 am (2326 GMT Tuesday) and also rocked the adjoining Qeshm highland.

"As of 6:00 am today, we have 209 people wounded in the earthquake said Farshid Abedi, the head of the main medical university in Hormozgan province where Bandar Abbas is located.
Share This Article With Planet Earth
Related Links
Bringing Order To A World Of Disasters
A world of storm and tempest
When the Earth Quakes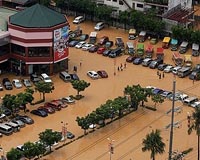 Philippines typhoon toll reaches 19: disaster council
Manila (AFP) Nov 3, 2009

Philippine authorities on Tuesday reported three more deaths from Typhoon Mirinae, which battered the storm-weary nation at the weekend, bringing the total number of those killed to 19. The National Disaster Coordinating Council said the deaths were due mostly to drowning and occurred in suburban areas just south of Manila and in two eastern provinces. Three other people are missing prim ... read more