2010 set to be among three warmest years ever: UN experts

by Staff Writers

Cancun, Mexico (AFP) Dec 2, 2010

2010 is set to be among three warmest years on record, and will cap the warmest decade ever, the UN's World Meteorological Organisation (WMO) said at the world climate talks on Thursday.

"2010 is almost certain to be in the top three warmest years on record," WMO Secretary General Michel Jarraud said. "It is probably the warmest one up to October-November."

"The decade from 2001 to 2010 has set a new record, it will be the warmest decade ever since we have records," he told a press conference.
Share This Article With Planet Earth
Related Links
Climate Science News - Modeling, Mitigation Adaptation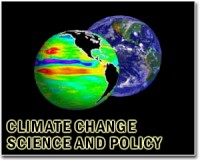 Climate: Japan under fire for stance on Kyoto Protocol
Cancun, Mexico (AFP) Dec 1, 2010

Green groups reacted with concern at the world climate talks on Wednesday after Japan stood by its opposition to renewing pledges under the Kyoto Protocol, the cornerstone UN pact on global warming. Friends of the Earth said Japan had thrown down an obstacle at Cancun, where the future of the Protocol is part of a complex, interlinked haggle, by speaking so bluntly. In a plenary session ... read more