10 killed in Karbala car bomb: Iraq officials

by Staff Writers

Karbala, Iraq (AFP) Nov 8, 2010

A car bomb exploded in the holy city of Karbala in central Iraq on Monday killing at least 10 people and wounding 38, a number of them Iranian pilgrims, police and hospital officials said.

The explosion occurred in the northern part of the city, the officials said.

Some 1,500 pilgrims a day from neighbouring Iran visit Shiite shrines in Iraq, mainly in the holy cities of Najaf and Karbala.
Share This Article With Planet Earth
Related Links
Iraq: The first technology war of the 21st century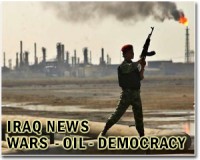 US commander says Qaeda still a threat in Iraq
Baghdad (AFP) Nov 6, 2010

A senior US commander said on Saturday that Al-Qaeda's ability to infiltrate foreign fighters into Iraq had been severely restricted, but that it was still a threat and would remain so. Brigadier General Jeffrey Buchanan said that a deadly attack in Baghdad targeting Christians and explosions in Shiite neighbourhoods across the capital over the past week demonstrated that Al-Qaeda remained d ... read more